Product Details
Sandwich panels are used in large industrial plants, warehouses, stadiums, supermarkets, hospitals, cold storage, mobile homes, building plus floors, clean workshops and places where insulation and fire protection are required. The sandwich panel has beautiful appearance, bright color and good overall effect. It integrates load-bearing, heat preservation, fireproof and waterproof, and does not require secondary decoration. It is a kind of versatile, especially in temporary facilities such as offices and warehouses for construction sites. , the wall, etc., more embodies the civilized construction of modern construction sites, especially in terms of rapid installation and use, there are obvious advantages in the detachable and recyclable index of materials that can be installed, and the temporary facilities cost of construction sites is greatly reduced.
Today we introduce the Fiberglass sandwich panel
Fiberglass sadwich panel consists of glass fiber and 2 layers of steel sheet.This material is the excellent choice for heat insulated roof and wall cladding of industrial and commercial buildings
Fiberglass sandwich panel specification: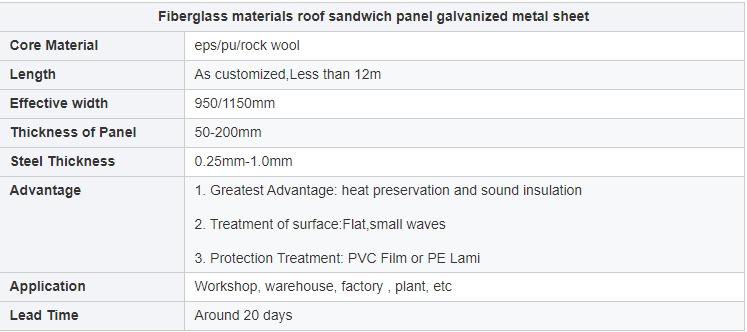 Advantages of panel:
Non inflammability and Level A fireproof performance
Excellent performance in thermal insulation
Biodegradable and environment-friendly
Hydrophobic property and high ageing resistance
Sound absorption and noise reduction
High acidity coefficient can greatly reduce the corrosive action on metals
Advantages of core material
The core material(glasswool) composes of 5-8um-diameter thin and uniform glasswool fibers produced by applying high speed centripetal separation process to original glass stone,and its interior is pure inorganic substance .The thermal insulation effect cannot abate as time goes by due to its compact and uniform overall structure.