Product Details
Poultry farm shed chicken houses can be built with different construction methods, close type ( with roof and wall panel cladding) and open type(with sandwich panel or steel sheet&aluminum bubble foil for roof, no wall or wire mesh&curtain for wall). Also it can be with different structure type,one is portal frame structure and another is steel truss roof structure.
As long as you can have your own thoughts, we will help you to realize it.
Broiler chicken houses often used in broiler and layer housing in free range and cage system.
Also we can introduce our partner (the equipment supplier) to you, then we work together to provide more workable project for you.
Characteristics
1. Rust protection, acid resistance, good insulation performance.
2. Easy structure, high efficiency, lower cost, great flexibility.
3. Wind protection, lighting and shock protection, environment friendly.
Equipment List Steel Prefab Chicken House in Poultry Farm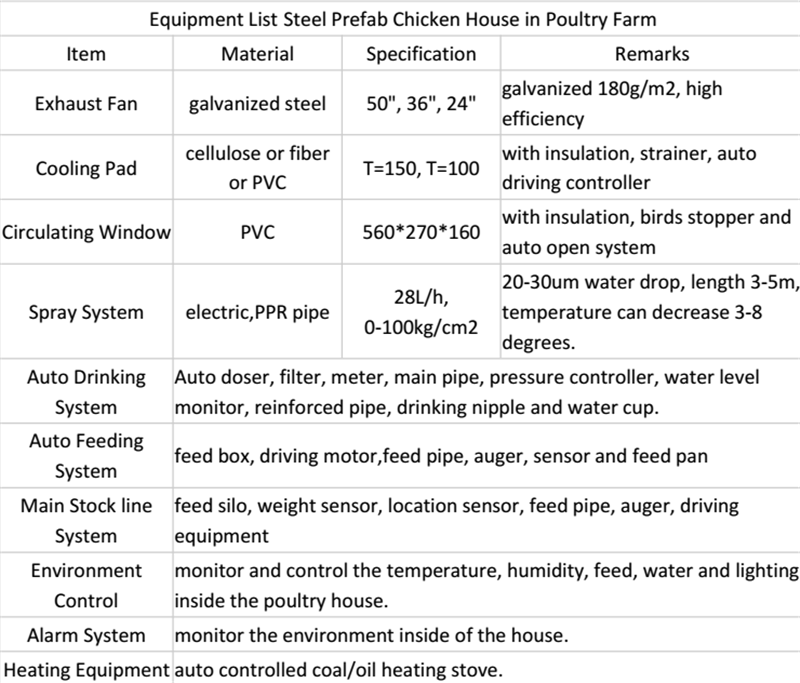 Our Advantages on Steel Prefab Chicken House in Poultry Farm:
1. Long History and Rich Experience in Steel Structure Industry:
We have more than 15 years' experience with steel structure manufacturing and steel building projects running. During the past 15 years we have done many steel structure projects both at home and abroad. Now our projects stand in more than 20 countries around the world.
2. Advanced Equipment and Professional Production Line:
More than 200 well-trained workers running the 6 steel structure production lines all year round to ensure the project finished on time. All equipment is up to standard and all the facilities are maintained periodically by professional technicians.
3. Wide Range of Steel Structure Products:
Our products almost include all kinds of steel structure buildings, such as light steel workshops and warehouses, heavy industrial steel structure buildings, steel commercial buildings, prefab houses, container houses, chicken houses, steel structure aircraft hangars, space frame and pipe truss roofs, and mining belt conveyor galleries.
4. Solid Design and Management Ability:
We have more than 20 experienced engineers who are familiar with the structure design and management procedures of all steel structure projects. There is a high-qualified, high-efficiency and professional technical team ready to find best solutions for you at any time.
5. Best Service and Qualified QC Management:
Every one of our marketing managers is well trained and willing to provide best services. And we have a strict standard for finished products testing, to ensure the quality of all our steel structures. Meanwhile we have also passed the ISO 9001 quality management system certificate.
1.Common type of the industrial building?
Reply: Portal frame is the usual type in the industrial workshop and warehouse shed. Other types also could be designed and manufacturer as per clients' request.
2.What's the quality grade of the steel structure components?
Reply: Q345 is used for main steel structure, Q235 is used for secondary steel structure.
3.How about the delivery time?
Reply: Usually,within 45-60 days after the order confirmed, also depends on the fabrication quantity.
4.How about the derust grade?
Reply: Ball blasting Sa 2.5 on main steel structure ; manual derust St2.0 on secondary steel structure.
5.What kind panel used for the roof and wall?
Reply: Color corrugated steel sheet and sandwich panel could be used. Sandwich panel performs well on the heat insulation,sound insulation.Common sandwich materials are EPS,glass wool,rockwool and PU.
6.How to install it?
Reply: We will furnish you the detailed construction drawing and the construction manual which could help you to erect and install the building step by step. We also could send the engineer to your local to help you if needed.
7.Maintenance:
Reply: Finish paint need be done after the frame installed, and do it again after 6-8 months.So the surface will stay more time.