Product Details
The chicken house is a new type of steel structure building, which is very popular all over the world and is widely used for raising broilers, laying hens, ducks, etc.
The steel structure poultry house featured convenient transportation, convenient installation, low investment and environmental protection.
Because different countries have different climate, market and custom requirements. The broiler house generally has a width of 12-16 meters, a length of less than 150 meters, and a height of 2.1-3m (stocking) or 2.5-4.5m (cage type or H type).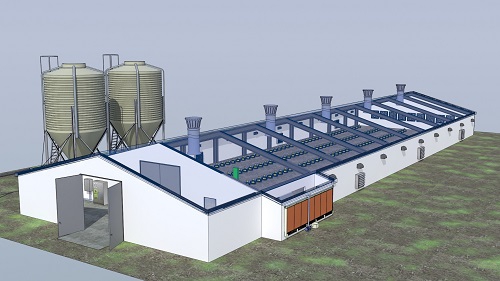 Description
The kind of structure you will put up for your chicken farm can contribute to the overall ease of operating your agricultural business. Think about the best materials that you can use for your operations.
When it comes to building a chicken farm, you can choose from traditional wood material or the more modern steel.
Wood vs. Metal
One of the misconceptions people make when choosing between metal and wood is that the latter is cheaper. But wood is actually more difficult to source, hence it is typically more expensive. Steel is easier to fabricate. There are also providers of steel building kits that make installation of steel chicken farms building a lot less expensive than if you use wood.
It also makes more sense to go with metal if you are looking for a sustainable and durable kind of material. Wood can be susceptible to damage brought about by moisture. Pests can eat away this material. In chicken farm settings, there is a high likelihood for wood to get damaged by pests.
Metal farm buildings can last longer. The material also doesn't require too much maintenance. You can focus on growing your chicken farm business and not have to worry about your building structure.
Technical Parameters:
Name
Steel Structure Chicken House
Material
Q235B,Q345B
Main frame
Welded H-shape steel
Purlin
C,Z-shapesteel purlin
Roof and wall
a) Rock Wool Sandwich Panels;
b) EPS Sandwich Panels;
c) Glass wool Sandwich Panels;
Door
a) Rolling Gate;
b) Sliding door;
Window
PVC Steel or Aluminum Alloy
Down spout
Round pvc pipe